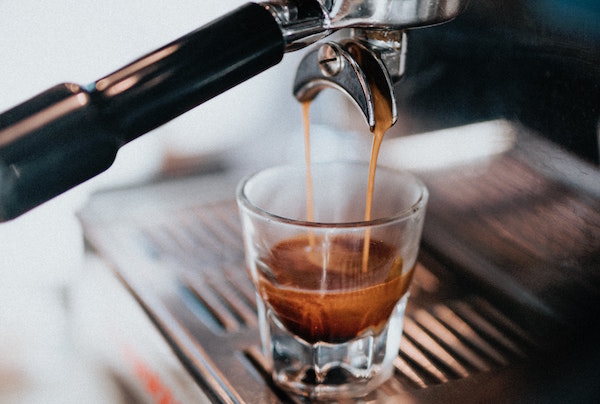 Nothing beats the jolt you get from a smooth, rich espresso.
Americans enjoy it so much that, according to the investment app Acorns, they spend about $1,100 per year on coffee. (1)
Luckily, buying one of the best espresso machines for your home is an excellent way to save some of that money without sacrificing the quality of your brew.
If you're looking for the best espresso machine to match your needs, take a look at our in-depth reviews for the top ten machines out of over seven thousand models on the market.
Top Espresso Machines of 2020 (At a Glance – For Those in A Rush!)
#1 Breville Barista Express Breville BES870XL (Editor's Choice)
This all-in-one machine includes everything you need to brew espresso, heats up quickly, and allows you to customize your drink to your taste preferences – our #1 espresso machine of 2020 pick.
#2 De'Longhi EC155 15 Bar Pump Espresso and Cappuccino Maker
With a self-priming feature for quick setup, two thermostats for controlling pressure, and maintained brewing temperature, this model earns our best value pick.
#3 Rancilio Silvia Espresso Machine with Iron Frame and Stainless Steel Side Panels
This commercial-grade machine composed of sturdy iron and stainless steel includes a steam wand with a full range of motion and a group head that heats evenly making it our best cheap (but good!) model.
#4 Gaggia RI9380/46 Classic Pro Espresso Machine
Gaggia's machine brews quietly, is compatible with pods or ground coffee, and has a 3-way solenoid valve that makes clean up and puck disposal a breeze earning our pick of the machine with the best balance of simplicity and flavor.
#5 Breville BES878BSS Barista Pro
With an LCD screen, its ability to create custom shots, and a heating system that warms up in just three seconds, this Breville machine earns our pick of best professional-grade features.
This Flair model has a unique design that doesn't need electricity to run, makes handcrafted espresso shots, and is portable with a carrying case making is our choice for best manual model.
#7 De'Longhi Essenza Mini Nespresso
One of the easiest espresso machines to use, the Nespresso Essenza Mini brews fast, works with capsules, and has a simple one-touch operation, making it our pick for most convenient brew.
#8 SOWTECH Espresso Machine with Milk Frother
This SOWTECH machine brews without making a mess, is perfect for large groups, and includes a marked carafe for perfectly measured shots, earning it our pick for best for brewing large quantities.
#9 Calphalon BVCLECMP1 Temp iQ with Steam Wand
With a straightforward set up so you can get to brewing right away, an oversized portafilter for even water distribution, and exclusive heating technology for powerful flavor, this machine earns our quickest setup pick.
This simple stovetop model works on any type of stove, has a rubber guard to protect from burns, and a certified safety valve to keep pressure levels under control, making it our choice for best for avoiding complicated settings.
Espresso Machine Reviews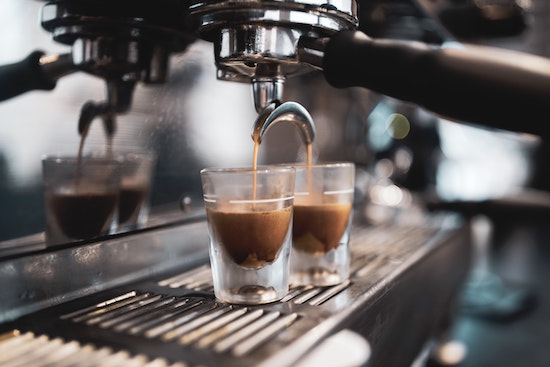 To help you sort through the many espresso machines out there, we reviewed ten of the best models.
Our espresso machines reviews cover the pros and cons, features, and benefits of each model to ensure you find the perfect one for you.
This Breville machine has a durable steel construction and compact size for kitchens with limited counter space. But what makes this machine the #1 best rated home espresso machine is its variety of features.
Despite its small stature, it's more than capable of producing barista-quality espresso as a single or double shot. This machine's water tank has a 67-ounce capacity, which is relatively large compared to comparable models.
What makes this machine even more special is its versatility. You can use either automatic or manual operation depending on the time you have and your experience level.
The pressure gauge, dose-control grinder, grind size dial, and digital temperature control all offer you the opportunity to customize your espresso to your taste preferences.
Espresso is very concentrated, so you want a robust taste, with the full flavor of your fresh beans. (2) With this machine, you get rich flavor that you can be proud of every time.
Pros
An all-in-one machine, so you don't have to purchase any additional equipment
A sensor that lets you know when to perform maintenance
Heats up and brews in less than a minute, which works perfectly for mornings before work
Dose-control grinding that grinds the coffee beans immediately before extraction for optimal flavor
An automated cleaning cycle
Cons
The premium-level price (but it's more than worth it on our books!)
This De'Longhi machine is one of the simplest to use and one of the most affordable, making it the best budget espresso machine on our list.
It features a 15-bar high-pressure pump to produce a complex taste. You can use pods or ground coffee with this machine, which is convenient and gives you plenty of flavor options.
It has a self-priming function that prepares the machine for use and makes brewing a speedy process.
This feature makes it an excellent choice for mornings when you're running late. Its small size works well in almost any kitchen, and cleaning is easy thanks to the removable water tank and drip tray.
Pros
A self-priming function that prepares the machine for brewing espresso and saves you time during preparation
Includes a cup warmer
A very affordable price compared to other similar espresso makers
Features two separate thermostats that control water and steam pressure
The Advanced Cappuccino System preserves brewing temperature, so you don't have to wait between enjoying drinks
Cons
The clearance space for larger cups could be a tad larger
The Rancilio Silvia Espresso Machine is the best cheap (but good!) pick on our list with its commercial-grade features and professional brewing experience.
You'll love this machine if you're looking for one of the best espresso machines that's semi-automatic. This allows you to have a great amount of control over your final product.
If you want to feel like an expert barista, you can use this machine's portafilter handle to reach premium extraction for an intense flavor. It includes a steam wand with a full range of motion and a steaming knob that lends you control over steam pressure.
You can achieve a broad range of tastes and aromas with this machine, though it may take some experimenting before you figure out what settings work best for you.
Pros
Made of iron and stainless steel for ultimate durability
A well-functioning steam wand that produces decadent foam
Commercial-grade features, including a group head for heat stability and precise extraction
You have control over the steam pressure
Cons
No digital temperature control
Gaggia recently updated this machine's design, making it more contemporary, and allowing for easier access to the water tank.
It's a semi-automatic machine perfect for novice brewers because of its ease of use and exceptional taste. This combination makes it the best espresso machine for versatile brewing.
If you have an interest in brewing but aren't looking to become a professional-level barista, this machine offers a balance of automated features and commercial-quality components.
The steam wand works well for latte art, and the device heats up in about five minutes if you're in a rush. On top of all that, it checks in at a reasonable price.
Pros
Less noise during brewing thanks to the smart mounting of the vibration pumps
Simple controls with indicator lights for power, brewing, and steaming
Features a 3-way solenoid valve that helps release pressure from the coffee to form a puck that's easy to clean up
Compatible with pods or ground coffee
Cons
The steam wand is powerful, and it may take a few adjustments to become comfortable using it
Another amazing Breville machine with useful features, this espresso machine offers a consistent flavor and custom shots.
It has many high-quality features, making it the best high-end espresso machine on this list.
In particular, the ThermoJet heating system is a lifesaver if you're like me, always late for work and running out the door in the morning.
Thanks to this feature, this machine achieves the optimal temperature for extraction in just three seconds and immediately transitions from espresso to steam. You get an espresso shot in no time at all.
If you want an exact flavor, this machine's dose control, adjustable grind size, and digital temperature control will help. It's low-pressure pre-infusion feature also evenly distributes flavor throughout the extraction process.
Pros
LCD screen with progress animations that help with precise brewing
ThermoJet heating system that heats the machine in just three seconds
Capable of brewing custom shots
Adjustable grind size to suit different varieties of beans
Cons
You may experience a learning curve when you first start using it
The Flair Espresso Maker is an entirely manual, 100% human-powered, one-of-a-kind machine for coffee.
It's our best lever espresso machine because of its sturdy stainless steel and aluminum construction and carefully crafted brew. This model allows you to experiment with and perfect your espresso.
With this maker, you have to boil water separately, which may add time to the preheating step of the brewing process. However, I found maintenance to be much easier than with larger machines.
Because it's entirely manual, you don't need electricity to produce flavorful espresso, which makes it a fantastic choice if you have limited resources at your disposal. You can even use it on camping trips, with it being so easy-to-use.
Pros
It can make handcrafted espresso shots
A unique design with no wires or plugs
Portable with a custom carrying case, including molded padding to protect the machine
The only machine with a completely detachable brewing head that simplifies cleaning and maintenance
Comes with a measuring cup and funnel
Cons
Have to purchase a burr grinder separately
Espresso brewing doesn't get much more convenient than this Nespresso Essenza Mini, which ranks as the best pod espresso machine.
It's perfect for situations when you're pressed for time because it heats up in 30 seconds or less. That speed doesn't sacrifice quality, though, since this machine has a 19-bar high-pressure pump for rich flavor.
This machine's compact size, with a weight of only five pounds, is extremely portable.
When you purchase it, you also receive a welcome kit that includes a variety of capsules so that you can test different flavors. This machine even has two built-in programmable sizes, espresso and lungo, that simplifies brewing even further.
Pros
A one-touch operation that's quick and easy to use with virtually no learning curve
The most compact Nespresso machine (one of the best espresso machines for limited counter space)
Compatible with pods from other manufacturers, so you have a wide range of flavor options
Features an energy-saving function that automatically turns the device off after nine minutes and supports low energy consumption after three minutes
Cons
A bit loud
A small water reservoir and used capsule container that you have to empty frequently
SOWTECH's affordable espresso machine is not only easy to use but features a space-saving design, too.
It's the best compact espresso machine that offers you convenience with intense flavor.
It can fit almost anywhere without taking up too much precious counter space, while temperature control helps you achieve the rich taste you want.
It comes with all of the equipment you need to brew espresso, including a frothing arm for thick foam. Based on my research, users claim that it makes delicious cappuccinos, as well as espresso.
You can make up to four cups of espresso at a time, which works perfectly for brewing at parties or holidays.
For more top-quality espresso machines that pack a punch in a small package like this model, check out our best Jura coffee machines of the year.
Pros
No mess or splatter during the brewing
All controls work from a single knob for simplicity of use
Includes a labeled carafe that lets you know how much to pour to get the perfect espresso shot
Works well when making espresso for larger groups
Cons
You may need to add a little extra water if you're using the milk steamer
If you're new to espresso brewing, this easy-to-use machine may be just what you're looking for as the best espresso machine for beginners.
It's pre-programmed for single and double shots to deliver the correct amount of water, preserving a strong taste. It also has a single dial that controls the entire machine.
Made entirely of stainless steel, it's durable and powerful with a 15-bar pressure system. It takes only minutes to brew an espresso shot with a balanced flavor due to the pre-infusion function.
This machine also includes a steam wand that you can use for froth, microfoam milk, or even latte art if you're feeling creative.
Pros
An oversized portafilter that evenly distributes water among the coffee grounds
A straightforward easy-to-use set up so you can get to brewing right away
Thermablock heating technology and digital temperature control allow for even heating and robust flavor
A cup-warming tray on top of the machine to keep drinks hot
Includes a stainless steel milk pitcher, tamper, and cleaning pin
Cons
Be careful with the cup warming tray – it does its job well and cups may be hot to the touch
It's tough to beat the price of this stovetop espresso maker, also known as a moka pot. (3)
It's the best simple espresso machine thanks to its mix of affordability, flavorful espresso, and ease of use. Although it may take a little longer to brew espresso than the range of automatic machines, it's much simpler to set up and brew.
There's not an overwhelming amount of preparation or settings configuration. Instead, the instructions are clear, and the process is straightforward.
It's also a secure model with a safety valve and a non-toxic silicone seal that inhibits leaking and keeps the pressure at the proper level.
Pros
Works on gas, electric, and propane stoves
Soft-touch handle with a rubber burn guard
A certified safety valve that prevents internal pressure from reaching dangerous levels
Available in five sizes – one, three, six, nine, and twelve-cup sizes
Cons
Slow heating on glass top induction stoves
If not positioned properly on the stove, the rubber coating on the handle can melt
Buyer's Guide – How to Buy the Best Espresso Machine for You
If you feel overwhelmed by so many options, don't worry!
We designed this buyer's guide to help you figure out which machine is best for you.
#1 Know the Different Types of Machines Available
Espresso machines date back for centuries and have undergone many changes. (4)
Learning about the different types of espresso machines on the market will help you make an informed decision, ensuring that you end up with a machine you love.
Semi-Automatic Espresso Machine
If you want to practice a more traditional brewing style, the semi-automatic espresso machine is probably the right choice for you.
With these great espresso machines, you have more control over the settings and the flavor of your espresso.
You can control the machine's water flow, too, specifically when extraction starts and ends. These devices do not usually include a built-in grinder, which gives you power over the beans' preparation in grinding, tamping, and extracting.
These machines are still automatic because they have a boiler, portafilter, and a switch that turns the pump on and off for extraction.
The portafilter is typically either pressurized or non-pressurized. (5) In most cases, they include steam wands, as well.
Fully-Automatic Espresso Machine
Fully-automatic machines are similar to semi-automatic machines but take over even more controls, including the water volume. You don't have as much freedom with extraction since the machine stops automatically once the water passes through.
Like semi-automatic machines, fully-automatic ones usually do not include a built-in burr grinder.
Fully-automatic machines are popular in coffee shops because they allow baristas to work on multiple drinks simultaneously. It's a much more hands-free machine in comparison to the semi-automatic.
Super-Automatic Espresso Machine
These machines take care of almost every step of brewing espresso from grinding and tamping to brewing and steaming. Super-automatic espresso machines are simple to use and almost guarantee a uniform brew every time.
These machines are programmable, and you can set the temperature, volume, and extraction time to your liking. They usually come with a built-in grinder, which takes automation a step further from a fully-automatic machine.
With these espresso makers, it's tough to make any changes or customizations to your espresso.
Ultra-Automatic Espresso Machine
Ultra-automatic espresso machines are the most automated of all of the available espresso makers. They handle all of the functions of super-automatic devices, plus they froth and steam milk automatically.
These machines are relatively new for in-home use and were previously only available as large commercial machines.
Because of their many features, they are the most expensive option, usually selling for a few thousand dollars.
#2 Consider How Fast You'll Need Your Cup
Another priority when buying one of the best espresso machines is the amount of time it takes to brew.
Some machines can deliver rich-tasting espresso almost instantly, while others require a bit more preparation time.
Instantly? (On-The-Go)
If you need your espresso instantly, you probably want to search for a machine that heats up quickly and doesn't require a bunch of complicated preparation work.
Pod-compatible machines are a safe bet, as are automated machines with quick-heating technology.
10ish Minutes? (Quick Activity)
When you need a quick jolt in the morning, a boost in the afternoon or a "pick me up" after diner, making a fresh espresso with fresh ground beans is a great quick activity.
Many automatic machines can have a shot ready in about ten minutes.
15+ Minutes (Don't Call It A Hobby, It's A Passion!)
If you're willing to spend a little more time crafting the perfect espresso shot, you may want to look into semi-automatic or even completely manual machines.
With these machines, you can experiment more with temperatures, volumes, and types of beans. You can also play around with the fineness of your grinding.
Keep in mind that some of these machines can be challenging to use, especially at first and if you're a beginner.
The tradeoff is that you can achieve barista-quality espresso suited exactly to your liking.
It just takes a bit of practice, like with some of our best coffee makers of the year, but once you get it, it's more than worth it!
#3 Think About the Amount of Espresso You'll Be Making
It's essential to think about the capacity of an espresso machine before purchasing it.
Single-Cups
Single-cup espresso machines brew enough espresso for one shot and are perfect if you only want to make enough coffee for yourself.
If you just need single-cup capabilities, you don't have to worry about investigating machines with different filters or ones that have special heating features that make multiple brewing cups easier.
Double-Cups
Double-cups are an excellent way to get a little more espresso with every brew.
If you know you will be using your machine to make double-cups repeatedly, you may want to make sure your maker is capable of brewing more than one cup simultaneously.
For the Whole Party
Some espresso machines include a carafe that you can fill with espresso.
Although these are not typically as large as those found with ordinary coffee machines, they can accommodate multiple espresso shots, making them excellent choices for parties and large groups.
#4 Know These Espresso Making Tips – From a Die-Hard Barista
The best espresso machines available can't compensate for user mistakes during brewing.
Follow these tips to brew espresso with a full flavor, strong aroma, and intense crema every time.
Pro Tip 1: Use the Best Filtered Water You Can Find
The quality of your espresso directly correlates with the quality of the water used to brew it. Plus, using high-quality water keeps your machine in good condition and increases its longevity.
Filtered water reduces unwanted odors and tastes from water. The ideal filtration system will also maintain an appropriate mineral content in the water, ensuring great-tasting espresso.
Pro Tip 2: Use Skim Milk for the Most Frothy Goodness
It may come as a surprise, but skim milk, which contains no fat, creates the densest and frothiest foam compared to full or reduced-fat milk. (6)
Skim milk is a bit sweeter than other milk and much lighter, which both help to generate full foam when steamed.
Pro Tip 3: Use a Quality Coffee Grinder
Just as important as the quality of the coffee beans is the quality of the grinder. According to several coffee aficionados, the grinder may even be the most crucial piece of equipment in the espresso-making process. (7)
Efficiently grinding your beans prevents clumping and overheating, as well as distributing the coffee evenly once it's in your machine. If any of these aspects are off, you'll end up with espresso that's too weak or over-extracted.
With a high-quality coffee grinder, you also achieve a fine and consistent grind, so each shot of espresso fulfills your taste preferences.
#5 Find the Top Deal for Your Taste
Cost is always a top concern, no matter the product you're buying.
The best espresso machines come in a wide range of prices, and in many cases, will save you money in the long run since you're not spending it every day at the coffee shop.
It's best to stick with the more straightforward and less expensive models if you're new to brewing.
However, if you're an experienced barista interested in expanding your skills, the pricier models may give you the freedom you're looking to hone your brewing process.
Final Verdict: Choosing the Best Espresso Machine of the Year
Now that you've seen our top ten at-home espresso machines for 2020, here at Freshys Coffee Blog, all that's left is to choose a machine that's right for you. If you're not sure which to choose, go with our #1-rated unit of the year, the Breville Barista Express – Breville BES870XL. You won't be disappointed.
When it comes to selecting the best espresso machine, it's all about personal preference and individual needs.
But this Breville machine is an excellent all-around option that perfectly balances traditional brewing style, customized flavors, and straightforward automated use.
Once you master the Breville, you'll feel like a professional barista, proud of the rich espresso drinks you can concoct with every brew.
References
https://sqy7rm.media.zestyio.com/Acorns2017_MoneyMattersReport.pdf
https://italialiving.com/articles/food-wine/some-simple-facts-of-espresso/
https://blog.sfgate.com/lifestyle/2020/07/20/a-look-at-the-different-types-of-espresso-machines-that-exist-today/
https://www.smithsonianmag.com/arts-culture/the-long-history-of-the-espresso-machine-126012814/
https://www.seattlecoffeegear.com/blog/2008/12/30/ask-the-experts-whats-the-difference-between-pressurized-and-non-pressurized-filter-baskets/
https://recipes.howstuffworks.com/menus/10-things-your-barista-doesnt-want-you-to-know8.htm
https://jonesbrotherscoffee.com/en/blog/the-grind-just-as-important-as-the-coffee