Where's your favorite place to drink coffee?
Over 79% of Americans prefer to drink their coffee at home instead of at a coffee shop or other location. (1) Fortunately, it's definitely possible to brew commercial quality coffee at home, even if you're not a trained barista.
With it being easier than ever to have fresh, exotic, single-origin beans made from all around the world delivered straight to your doorstep in a snap, upping your at-home coffee game makes more sense than ever.
To aid your search, check out our complete guide to the best coffee makers of 2020, with 13 recommendations, plus expert buying advice.
Top Picks for Best Coffee Makers (At a Glance – For Those in a Rush!)
1. Cuisinart DGB-900BC Grind & Brew (Editor's Choice) With stainless-steel construction, excellent filtration, and a built-in grinder, this model earns our #1-rating for the year.
2. Technivorm KBT Coffee Brewer: Our favorite drip coffee maker is fast, quiet, and easy to use.
3. Cuisinart DCC-3200P1 Perfectemp: If you want to automate your coffee brewing, check out this model, which is packed with programmable options.
4. Jura S8: Our favorite high-end coffee maker makes specialty drinks, foams milk, and delivers overall commercial-level performance.
5. Keurig K-Elite: Our favorite single-serve option is is easy-to-operate, offers a ton of flavor variety and brews a single cup quickly.
6. Bunn 10-Cup Velocity GRB: You can brew up to 10 cups of coffee with this model. It's our best small coffee maker, making it ideal for anyone without a ton of extra counter space.
7. Ninja Specialty Coffee Maker CM401: Our favorite coffee maker with a frother lets you greatly expand your options to include specialty drinks and other tasty treats.
8. Hamilton Beach FlexBrew: Some days call for more coffee than others. This model is our top single-serve and full pot coffee maker because it's versatile, well-made, and has an intuitive design.
9. Ninja AutoiQ: Our favorite coffee and tea maker is capable of switching between a variety of hot and cold drinks with ease.
10.Cuisinart SS-15P1 Coffee Center: Our favorite stainless-steel coffee maker is strong, stylish, and a good choice for both homes and offices.
11. Hamilton Beach 49350 with Alexa Smart: Connect this model to Alexa to allow for remote and voice operations. It's our selection for the best high-tech coffee maker.
12. Keurig K-Mini: Our favorite automatic coffee maker is easy to set up, reliable, and works great for travel.
13. Mr. Coffee 12-Cup: Our top choice for the best simple coffee maker is reliable, well-constructed, and uncomplicated.
Coffee Maker Reviews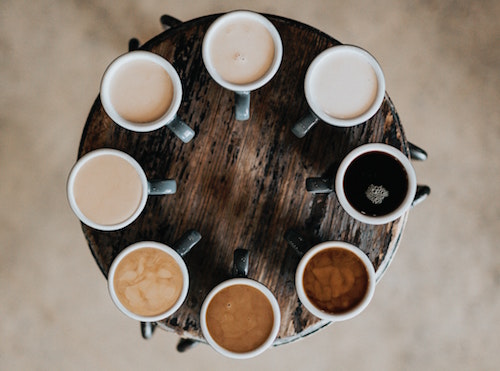 Now that you've seen our top 13 coffee makers available this year out of thousands of worthy opponents, let's take a closer look, shall we?
After you read our coffee maker reviews with pros and cons of each model, finding the perfect machine for you becomes super easy.
If you're ready to put more flavor in your daily cup, hop right in starting with our #1-rated coffee maker on the market, the Cuisinart DGB-900BC Grind & Brew, our Editor's Choice!
Cuisinart's DGB-900BC is our #1 best coffee maker of 2020 – and it's easy to see why. It makes up to 12 cups of coffee, keeping your brew fresh and tasty every time thanks to the double-walled, insulated, stainless-steel thermal carafe.
It's fully programmable, with an auto-shutoff and brew-pause, so you can set brewing to begin whenever you like, even if you're asleep or not at home. A charcoal water filter and permanent gold-tone filter both help create a fresh, authentic flavor from the medium grind.
Overall, it's our recommendation for the best grind and brew coffee maker. It's well-made, easy-to-use, and produces top-of-the-line taste.
Pros
Brews up to 12 cups of coffee
Produces a medium-grind for full, rich flavor
Programmable with automatic shutoff
Uses both charcoal and gold filtration
Cons
It's superior performance, features, and overall quality command a premium-level price (but it's well worth it!)
The Technivorm KBT Coffee Brewer is our choice for the best drip coffee maker. The adjustable drop-stop brew-basket allows for simple, fast, and quiet brewing.
It rapidly heats the water to between 196 and 205 degrees, which is the ideal temperature for soluble extraction. When the water reservoir empties, the coffee maker automatically shuts down, so you can safely start the process even if you're not awake.
Plus, it's fast. The cone-shaped brew basket fills the 40-ounce carafe in just six minutes. Plus, your coffee stays warm for hours, thanks to the carafe's stainless-steel construction.
Pros
Brews at the ideal temperature for great taste
Fills a 40-ounce carafe in six minutes
Quiet operation
Easy and programmable
Cons
It's on the more premium side for price like our first model (but you get what you pay for)
Cuisinart's DCC-3200PI combines state-of-the-art tech with a stylish, modern design. It's our choice for the best programmable coffee maker. You can program brewing to start whenever you like, with auto-shutoff, brew-strength adjustment, self-cleaning, and more.
It's great for households of all sizes. You can brew anywhere from one to 14 cups. The stainless steel keeps the coffee hot while also preserving its fresh taste all day long.
Finally, it has a compact, stylish look that fits right at home in any kitchen. The design is functional, too, with an easy-to-operate control panel built into the front. You can wake up every morning to fresh-brewed coffee.
Pros
Easy to program
Adjustable brew strength
Stylish, compact design
Brews from one to 14 cups at a time
Cons
Lacks the bonus features some look for
If you want a coffee maker with absolutely all of the bells and whistles, check out the Jura S8.
It's the best high-end coffee maker on our list. Even though the initial price is higher than many other options, it's a great value if you want a commercial-quality machine for use at home.
You can make practically anything, including coffee, mouth-watering espressos (like you can with our #1 best espresso machine of 2020), cappuccinos, macchiatos, and more. No barista training is required because everything is made using the intuitive control panel.
It has a 64-ounce water tank with a 10-ounce bean container. The AromaG3 grinder creates a fresh taste with limited waste.
Additionally, it makes both steamed milk and milk foam. You can make a variety of drinks not just accurately, but with authentic style.
For more highly-reviewed Jura machines like this, check out our #1 best Jura coffee machine of the year, and the rest of our top picks list to create coffee like you've never tasted before!
Pros
Includes a full array of fun and unique features
Grinds beans for a fresh taste
Includes a 64-ounce water tank
Includes a 10-ounce bean container
Foams and steams milk
Cons
The premium level price, but it's mouthwateringly worth it if you have the budget
Keurig is the king of single-serving, pod coffee. Their K-Elite is one of their most popular models; it's a rebranding of their famous K40/45 Elite. If you're looking for the best Keurig / best single serve coffee maker, this is an excellent all-around choice.
With a 75 ounce reservoir, you can brew up to eight cups without refilling the water. Simple controls let you vary the brew strength. Additionally, the K-Elite has both hot and iced water settings.
It works with all branded K-Cup pods. You'll have over 400 drink options from over 75 major brands.
You can also add the K-Cup Reusable Coffee Filter to brew your own grind. Finally, the K-Elite has a variety of programmable features accessible from an easy-to-use control panel.
Pros
Works with all branded K-Cup pods
Brews up to eight cups with one tank of water
Hot water and ice dispensers
Adjustable brew strength
Cons
K-Cup Reusable Coffee Filter is sold separately
You don't need a big machine to deliver a big taste.
Bunn's 10-Cup Velocity GRB is our pick for the best small coffee maker. It's perfect for coffee-lovers with limited counter space in the kitchen.
Its total size is 14.8″ high by 7.1″ wide by 13.8″ deep. It uses a multi-stream spray to coat grounds evenly with hot water, helping ensure thorough flavor extraction. It brews between four to ten cups at a time.
It's fast, too. You can brew an entire pot of coffee in under three minutes. Overall, it's small in size but fast and powerful.
Pros
Compact design is ideal for small kitchens
Carafe spout allows for mess-free pouring
Brews a full pot in three minutes
Multi-stream spray coats grind evenly
Cons
The coffee isn't always as strong as we'd like
Ninja's CM401 is stylish and versatile.
You can brew a balanced Classic Brew, a bolder Rich brew, Iced Coffee, and a variety of specialty options, including lattes, cappuccinos, and more.
The main reason such variety is possible is due to the machine's outstanding foldaway frother, which allows you to transform milk into forth in seconds.
Then, the frother folds away when not needed. It's our top coffee maker with a milk frother.
No matter what coffee drink you make, you can make it in any size you wish. Size options include a single cup, travel mug, half-carafe, and full carafe.
Pros
Excellent milk frother
Multiple pour size options
Stylish design
Four brew options
Cons
The price could be a tad high for those on a strict budget
Your coffee needs change from day to day.
If you want the option to make everything from a single cup to a full pot, check out Hamilton's Beach FlexBrew. It's our preference for the top combo coffee maker (single-serve + full pot).
Enjoy tons of flexibility about how you brew. The FlexBrew makes a full pot (about 12 cups) or a 14-ounce cup with grounds.
It can also brew a 10-ounce K-Cup. Additionally, it has a two-hour Keep Warm setting with auto-shutoff.
Pros
Allows you to brew a single cup or an entire pot
Works with both ground beans and K-cups
Includes warming option with auto-shutoff
Cons
Warm-up time for K-Cup is slow
Coffee isn't as strong as many other options
Why not switch it up now and again with some tea?
The Ninja Auto-IQ Hot and Cold Brewed System makes both coffee and tea. Even better, the smart basket system automatically recognizes what you're trying to make and adjusts accordingly.
You can choose between five brew styles: classic, rich, cold brew, over ice, or specialty. You can also select between six brew sizes, from a single cup to a full carafe.
Enjoy sweet-flavored tea in about 10 minutes, and coffee a bit quicker. It's our best coffee and tea maker combo choice.
Pros
Makes both coffee and tea
Offers five brew styles
Pours six sizes, from individual to a full pot
Cons
There are cheaper options on our list that are higher-rated
Durable and stylish, the Cuisinart SS-15P1 is the best stainless steel coffee maker. It can withstand heavy-duty use, making it a good choice for busy households and offices.
It brews both pots and single cups. You can set it to fill a 12-cup glass carafe. It also brews six, eight, and ten-ounce single cups.
A gold-tone coffee filter and brew-strength adjustability give you a wide range of control over the strength and taste of your coffee.
Pros
Strong, heavy-duty stainless steel construction
Brews both single cups and whole pots
The easy-to-use control panel lets you adjust the brew's strength
Cons
The single-serving side might leak a tad at times
This coffee maker is so smart that it practically has a PhD in brewing.
The Hamilton Beach 49350 connects to Amazon's Alexa for easy operation from anywhere. You can program it to start brewing in the morning, turn it off even if you've left the house, and much more.
It requires no extra apps beyond the standard Alexa app, so connecting your coffee maker to Alexa is fast and simple. It's our best smart/high tech coffee maker.
Of course, the taste of the coffee is more important than the technology used to make it, but Hamilton Beach's machine excels here, too. It brews up to 12 cups of rich coffee in either regular or bold strength.
Pros
Fully compatible with Alexa
Allows for voice and remote operation
Programmable with automatic shutoff
Brews up to 12 cups
Cons
The high-tech features increase the price so you must use them to get the full benefits
Keurig's K-Mini is a portable machine that's easy to travel with and use.
It lets you set up your preferences and then never deal with the details again, which makes it our choice for the best automatic coffee maker.
It's less than five inches wide, so you can fit it into your luggage or vehicle without a problem. It fits mugs up to seven inches tall. A removable drip tray helps prevent mess.
Finally, it's a safe and energy-efficient option, because it shuts off 90 seconds after its last use.
Pros
Compact design is easily portable
Auto shutoff after 90 seconds
Automatic settings are easy to set
Cons
It's not great if you have a taller mug to fill
Other options higher-ranked on this list provide tastier coffee (this is more for speed)
Not every coffee maker needs fancy features.
Sometimes, covering the basics is best. Mr. Coffee's 12-Cup coffee maker is the best simple coffee maker.
It's reliable, easy-to-use, and brews tasty coffee.
It's 12.56″ wide by 11.76″ inches high, so it should fit on most kitchen counters. It's easy to fill with dual water windows.
Finally, it's a good choice for large households and offices because it quickly brews up a 12-cup pot.
While not the fanciest, it's a solid choice at an affordable price.
Pros
Durable construction
Doesn't take up much countertop space
Makes 12 cups
Cons
Doesn't include many standard features found on other coffee makers
Buyer's Guide – Best Coffee Makers (Top 3 Tips for Mouth-Watering Cups Every Time)
As you've noticed in the reviews above, not all coffee makers are the same.
Instead, they each provide different benefits. How do you know which features will work best for your needs?
Here's a rundown of the three top tips for finding the best coffee maker:
#1 Know the Different Types of Coffee Makers
Coffee makers are divided into three types:
Let's take a closer look at each:
Keurig Coffee Maker
Keurig is the king of single-serve coffee pod makers. Their K-Cup pods allow you to quickly brew a single cup of coffee.
With connections to over 70 major brands and 400 flavors, a Keurig machine is ideal for anyone who wants a quick cup of coffee, likes a lot of flavor options, and wants a machine that's easy to use.
Keurig is more than a coffee maker – it's also a legitimate business phenomenon.
They've seen a recent boom in popularity, too, as their decrease in restaurant-related sales has been offset by their increase in home sales. (2)
On the downside, these single-serve pods produce a ton of waste if they're not made with recyclable materials. Even the founder of the company finds them excessively wasteful. (3)
Additionally, you'll likely end up needing to buy new K-Cups on a regular basis, which can get expensive. (A reusable, refillable K-Cup option is sold separately.)
Drip Coffee Maker
A drip coffee maker is the most popular type.
It moves carefully heated water through coffee grounds to fill a reservoir quickly with fresh coffee. (4)
Once brewed, the coffee typically sits in a carafe to stay warm.
Although specifics vary by brand, making drip coffee is usually easy.
You add cold water to its reservoir and ground beans to the filter. The machine heats up the water then sprays it through the grind.
The National Coffee Association recommends that the machine maintains a water temperature between 195 and 205 degrees during brewing for the best-tasting coffee. (5)
You need to select your own beans. Also, you need to grind them, although many drip coffee makers have a built-in grinder.
While these give you more control over the taste and quality of your coffee, it's not as easy as the pod type.
Combo Coffee Maker
A Combo Coffee Maker is a machine that makes coffee plus other types of drinks, including:
Tea
Lattes
Cappuccino
Iced coffee
Many combo coffee makers have a built-in milk frother. It's a utensil that aerates, and often warms, milk.
The frothing process creates a thick foam made with tiny bubbles. It's necessary for a variety of coffee drinks, including cappuccinos and lattes.
#2 Think of the Main Benefits You Want for Your Coffee Maker
Comparing coffee makers can feel confusing, but it's fairly straightforward.
You want to focus on the following three features:
Speed
How fast can the machine brew a cup of coffee?
A Keurig can brew up a cup in under five minutes. It takes a few minutes to warm the water, and then less than a minute to make the coffee.
Once the water is warm, you can brew cup after cup quickly.
However, you're limited to one cup at a time with most Keurig machines. A drip coffee machine often brews a much greater quantity of coffee quickly.
It's not uncommon to find drip coffee makers that can brew a pot of coffee (about 14 cups) in five to ten minutes.
Simplicity
How easy is the machine to use? Regardless of the type of machine, you want it to have a clear and clean user interface.
Also, is it easy to keep clean? Look for coffee makers with self-cleaning capabilities. Typically, you'll add vinegar, which is then automatically cycled through the machine.
Finally, make sure the machine is easy to maintain. With a drip machine, you'll need to replace the filters frequently, so make sure that accessing them is simple.
Final Taste
The final taste of the coffee depends on a few factors.
First, the machine must heat the water to the correct temperature range (195 to 205 degrees). Then it must spray the beans evenly to help bring out the richest, fullest flavor.
The quality of beans used also plays a major role in the flavor. Fortunately, due to the increased popularity of at-home coffee machines, the online availability of fresh coffee beans is booming. (6)
If a coffee maker doesn't have a built-in grinder, you'll need to buy one separately. Using a low-quality grinder defeats the purpose of a high-quality machine, so choose your grinder with care.
Finally, the coffee's taste depends on the cleanliness of the machine. Always use new filters with every brew, and clean the machine on a regular basis.
#3 Go with the Top Deal for You
You don't have to spend big to get a high-quality coffee machine. However, figuring out the best deal can feel a little tricky at first.
Here's what to look for:
Warranty
First, also check the manufacturer's warranty. It's fairly standard for most manufacturers to offer some type of warranty against defects.
However, you might have to look around a bit more if you want the option to return the machine after using it.
Shipping
Shipping costs can add up quickly, especially if you're ordering a large or heavy coffee maker. Make sure that you're not stuck paying postage if you need to return the unit due to any issues.
Final Price
Overall, you want to balance the price with the quality of the machine.
You might find that it's a better value to spend a bit more upfront to get a machine that will deliver great-tasting coffee for years without a problem.
The Bottom Line: Should You Buy One of the Best Coffee Makers of 2020?
Any of the top 13 coffee makers listed here at Freshys Coffee Blog will take your at-home coffee experience to a whole new level. However, which one is best for your needs?
When reading coffee maker reviews, you want to consider a variety of factors, including what types of coffee drinks you prefer, how much coffee you want to brew at one time, how much counter space you have, and more.
If you're just not sure which option to pick from the ones above, go with the Cuisinart DGB-900BC Grind & Brew (Editor's Choice). It's well-made, programmable, and makes a medium-grind with a full flavor. Overall, it's our #1 rated model of 2020.
The best coffee makers do more than make great coffee. They also help add comfort and warmth to your entire home.
Sources
https://www.reuters.com/article/us-coffee-conference-survey-idUSKCN1GT0KU
https://www.fool.com/investing/2020/07/29/what-look-for-when-keurig-dr-pepper-q2-earnings.aspx
https://www.cnet.com/news/keurigs-own-inventor-not-a-fan-of-k-cups/
https://www.msn.com/en-us/health/wellness/how-do-you-make-your-coffee-here-we-demystify-three-popular-brewing-methods/ar-BB16N3dN
https://www.ncausa.org/About-Coffee/How-to-Brew-Coffee
https://torontosun.com/life/food/0726-lifenational